Dark Fiction from Six Feet under the Midwest.
Magnificent Cowlick publishes character-driven stories originating right here in the lovely, friendly, and surprisingly creepy MIdwest.  Technically, they're in the horror genre. However, these anthologies, including a novel that leads up to/weaves through/wraps around an anthology, contain stories ranging from twisted and funny, to touching but dark, and all the way to OMG goose-bumpy terror.
We promise a thrilling, chilling, and occasionally guffawing trip through creepy side of our neck of the woods.  Join us, won't you?
ROUTE 666:  FOUR ON THE FLOOR
Buckle up your courage, it's in for a ride- in Route 666: Four on the Floor.  A quartet of dark, Midwestern stories drive you through landscapes of horror... A young woman takes her husband on the road trip of their dreams, with one little hiccup: he's dead. Two brothers discover that a derelict car's trunk might just be big enough to hold eternity. A weekend warrior rides his motorcycle to a tiny Kansas bar and grill, where a dark secret is always on tap. And, a fast-food drive-through satisfies a young man's hunger for fond memories, and fresh meat.
​
Get some high octane fuel for your nightmares.  Hit the road - to madness - in Route 666: Four on the Floor.
BLACK BUTTONS VOL. 1
​According to Midwestern folklore, someone who's been cursed by witchcraft can leave a black button lying on the road. If you should pick it up, you'll get more than you bargained for. You see, if you take the button, you also take the curse .
In Black Buttons, Vol. 1, five Midwestern writers conjure up nine dark tales to cast a spell over your imagination.
- On a furnace-hot night in Kansas City, a man with a dark gift gets high off the truths people hide inside.  When a storm breaks loose, his addiction main-lines an overdose in a voice he can't deny.
- By accident, a boy loses his prized baseball to the peevish old couple next door. When he and his sister sneak into their house to get it back, they come face-to-face with a nightmare out of left field.
- In the Ozarks, when your pipes clog with a stench that's ungodly, you call a plumber accustomed to the ungodly. He guarantees satisfaction. Just make sure you know whose satisfaction it is.
- A teenage girl faces violin practice, virginity, prom, and the ancient rites of Spring, as something worth dying for. Gather ye red flowers while ye may…
- Chess is the game of kings, but when a very bad boy gets a very special chess set, it becomes the real game of blood and death and a move no one expects.
- Dracula has a "coming out" moment with the girlfriend he met online, but the Transylvanian loses something in translation.
- Elementary school kids make up silly rules. But those rules have consequences. Step on a crack…
-A woman struggles to keep her sister, and her hopes, alive, as Ecovine Inc. bioengineers food for a starving world. The final answer to their woes blooms in a horror too beautiful to escape.
- When the miracle image of the Virgin Mary shows up on a redneck's morning toast, forget the jelly and bring on the hostage crisis.
Go ahead, if you dare. Pick up Black Buttons, Vol. 1. Because nobody believes in superstitions, right?
Right?...
BLACK BUTTONS VOL. 2
According to Midwestern folklore, someone who's been cursed by witchcraft can leave a black button lying on the ground. Pick it up, and you'll get more than you bargained for. What only the true believers know, is that whoever takes the button, also takes the curse .
Black Buttons, Vol. 2, delivers a new collection of novellas and short stories to fuel your darkest dreams.  From prom night vengeance and death defying antiques, to manslaughter fairy tales, a taste for killing, and one hell of a fight for the last word, get ready for a midnight ride on the twisting, turning backroads of Bible-belt insanity.
Go ahead. Take home Black Buttons, Vol. 2, if you dare. It should be no problem because you don't believe in silly old superstitions, right?
​
Right?...
BLACK BUTTONS VOL. 3
The Midwest. People of the earth, who roll up their sleeves and do what need's doing. They deliver an honest day's work for an honest day's pay, give gratitude for the simple things, and are humble because the taller you think you are, well, the farther you have to fall on your face.
Not a bad place to raise a family, right?
Dig a little deeper, because all is not right where the bible belt buckles. In Black Buttons, Vol.3: A Family Affair, a kith and kin of creepy tales immerse you in blood ties that spellbind.
•"The Culling" brings siblings together to roost one last time around Mama. Birds of a feather…
•"Toujours Nicole" bakes a pastry tale of passion lost.
•"Bald Island, Goat Island" shares the duality of life and death, of reality and memory, of childhood horror and lakeside property.
•"Night at the Huggy Bear" takes us on a honeymoon trip where two young newlyweds discover how love never leaves. Ever.
•"The Chosen Ones" preps a family for the apocalypse, by going on a Branson, MO Vacation.
•"Getting the Last Word" exposes how bad mom and dad really get along.
•"Juniper Gesso" tries to fix a dying marriage. Some things can't be whitewashed. Or can they?
•"Limbo Freezes Over" proves that in the place between heaven and hell, there's a job that must be done.
•"Learning to Cook" cooks up a young man's ascent from his father's disappointment. Problem is, just desserts aren't always sweet.
•"Mind Over Matter" reminds us that Alzheimer's can make loved ones forget important days. Terribly, horribly important days.
•"A Life Connected" discovers sisterhood and motherhood don't hunger for the same ends.
•"Front Porch Optimist" finds the silver lining in an almost-drowning.
•"The Troll Wrestler" grapples with the fraternity of the ring, and fights those who troll chosen brethren.
•"Odds & Ends" shows how Grandpa's love can fix everything but age and death. Not that he won't try.
It's horror, relatively speaking. Welcome to the family.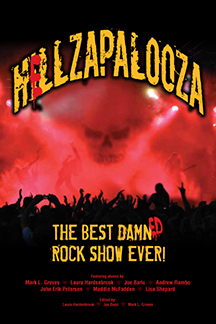 HELLZAPALOOZA:  THE BEST DAMNED ROCK SHOW EVER!
Rayjay Jahraznik, crazed concert promoter and three-ring king of rock and roll, wants to build an outdoor concert venue in tiny Isabella, Missouri. He's certain his first event there, a 24-hour rock
and roll festival called "Hillzapalooza," will be a raging success.
Oh, he's right about the rage.
From age-old abominations to hippie-fueled horror to the Trickster himself, the local landscape
is a mystical minefield. One wrong step and the natural charm explodes into unnatural harm. Can a rag-tag group of pseudopsychics and a hillbilly healer fight off the evil? Will the determined Reverend Bull pull off a Revelations revolution? Or does Hillzapalooza unleash Hell on earth?
The stage is set for seven authors to rock your world as Sodom and Gomorrah meets Barnum and Bailey with the amp cranked up to eleven.